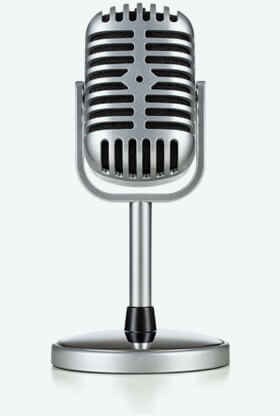 Useful Script Examples which can be added to Telephone Messages
The following templates and text ideas can be added to almost any kind of telephone message. You can switch the language of the text blocks by pressing the tab button.
OUR TIP: Our prompts configurator helps you find the right voice and also helps you with text suggestions, selection of music and speakers demos. With just a few clicks, you can compile your selection or desired prompt(s) and send it to us.
1.)  This call may be monitored and recorded for training or quality assurance purposes
2.) This hotline is free of charge, except for the normal telephone charges
3.) This is a paid service. If you stay on the line you are connected to a technician, otherwise please hang up.
1.) Cet appel peut être surveillé et enregistré pour la formation et la qualité à des fins d'assurance
2.) Cette ligne téléphonique est gratuite, sauf pour les frais de téléphone normaux
3.) C'est un service payant. Si vous restez sur la ligne que vous serez connecté à un technicien, sinon merci de raccrocher.
1.)  Le informamos de que esta llamada está siendo grabada con fines de formación y para mejorar la calidad del servicio.
2.) Esta llamada es gratuita excepto por la aplicación de las tarifas de teléfono habituales.

3.) Éste es un servicio de pago. Si se mantiene a la espera le transferiremos con un técnico. En caso de que no sea lo que necesita, por favor, cuelgue.
1.) Dieses Gespräch kann zur Qualitätssicherung und für Schulungszwecke mitgehört oder aufgezeichnet werden.
2.) Die Hotline ist, bis auf die normalen Telefongebühren, für Sie kostenfrei.
3.) Dies ist ein kostenpflichtiger Dienst. Wenn Sie am Apparat bleiben, werden sie mit einem Techniker verbunden, andernfalls legen Sie bitte auf.
1.) Этот разговор может прослушиваться и записываться в целях обучения или контроля качества.
2.) Звонки на горячую линию по этому номеру осуществляются бесплатно, за исключением обычных телефонных сборов.
3.) Данная услуга является платной. Если вы останетесь на линии, вы будете подключены к специалисту, в противном случае, пожалуйста, повесьте трубку.
1.) Questa chiamata potrebbe essere monitorata o registrata per la formazione o a fini di garanzia della qualità.
2.) Questa linea telefonica diretta è gratuita, fatta eccezione per le normali tariffe telefoniche.
3.) Questo è un servizio a pagamento. Se rimanete in linea, sarete connessi ad un tecnico, altrimenti si prega di riattaccare.
1.( يمكن مراقبة هذه المكالمة وتسجيلها بغرض التدريب وضمان الجودة 2.( هذا الخط الساخن مجاني، عكس رسوم المكالمات الهاتفية العادية 3.( هذه الخدمة مدفوعة. إذا بقيتم على الخط سيتم ربطكم بتقني، إذا كنتم لا ترغبون بذلك يرجى غلق الخط.
1.) Esta chamada pode ser monitorada e gravada para fins de treinamento e controle de qualidade
2.) Esta ligação é gratuita, exceto para as tarifas telefônicas normais
3.) Este é um serviço pago. Se você permanecer na linha de que você será transferido para um técnico, caso contrário, por favor, desligue.